Step-by-Step Instructions for My Email Set Up:
1. Before you use My Email Set Up, it is important to call STS Customer Support (877-787-1989).
The STS Customer Support representative will fill out your profile such as your name, address, username, password and other information. When your profile is completed, you are ready to use My Email Set Up!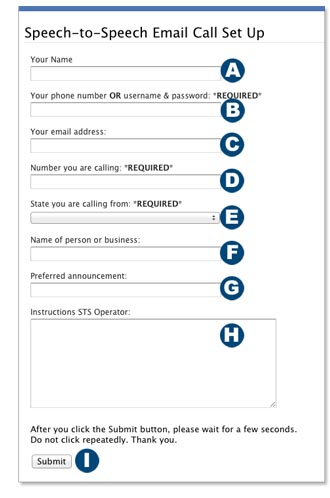 3. On the right side is the email set up online form.
A. Your full name.
B. Your phone number you are calling from OR
your profile username and password.
C. Your email address.
D. Phone number you plan to call. It is required to
provide the phone number.
E. Select a state where you are calling from.
F. Name of a person or business you are calling.
G. Specific announcements you'd like the STS
relay operator to make (e.g., "This is John
calling to check on my puppy.")
H. Brief instructions or details about the subject of
the call, call handling preferences, or anything
that you think might make the call easier.
I. Click the Submit button. Your information will be
available for the relay operator.
IMPORTANT NOTES:
– This on-line form must be filled out at least two hours before the call in order to send a message to the
relay operator.
– The message will be saved for up to 24 hours.
4. To place the call, you dial the Indiana Relay STS number (877.743.8231) and tell the relay operator to use the Email Call Set Up form. You may provide either their phone number or customer profile user name to the relay operator
5. The relay operator reviews the emailed instructions and promptly connects the call using the information provided
6. You speak to both the relay operator and the standard phone user.
7. The relay operator repeats your conversation to the standard phone user when requested.
8. The standard phone user listens to the relay operator and responds directly to you.
FOR VOICE CARRYOVER USERS
1. Dial Relay Indiana at 711 or 800-743-3333.
2. Operator answers by typing "RELAY INDIANA ("M" or "F" for operator gender), AGENT [number], NUMBER CALLING PLS GA." ("PLS GA" means "please go ahead.")
3. Tell the Operator the area code and telephone number you wish to call, say "VCO please" and then say "Go Ahead".
4. The Relay Indiana Operator will dial the number and after connecting with the other party, will type what the other party has said and then type "GA" which means it is your turn to speak directly to your party. When you have finished with your portion of the conversation, remember to say "Go Ahead.